At Contrary, we've spent the past five years focused relentlessly on understanding and supporting the world's top early-career talent.
In practice, this has meant everything from identifying special individuals before others, to helping them land their dream job, to investing in companies they start or join.
But as time went on, we realized that a gap in our understanding existed: while we spent hundreds of hours curating interesting places for our community to work and guiding them through career inflection points, we'd never actually turned the tables on them.
What startups were they excited about? What did they value in roles, and where did they find meaning? What were compensation benchmarks that they were targeting?
It turns out that nobody has.
So we went to work, surveying hundreds of top early-career engineers, product managers, and designers.
The end result: the very first report and 2021 edition of Where The Brightest Young Minds Want to Work.
Read on to see what we learned.
The Top 10 Startups of 2021
We had over 150 companies submitted blindly as part of our research process.
Without further adieu, the startups below are the top 10 startups where the brightest young minds want to work.
Crowded at the top
Although the top 10 appeared in 78% of the submission pool, the top 3 startups, Figma, Anduril and Retool, appeared in over a third (33%) of all submissions.
That's impressive, but not too surprising: each has been widely cited for having exceptional teams, impressive products and the ability to command capital.
All eyes on AI and ML
When asked which industries the brightest young minds are most interested in, Artificial Intelligence and Machine Learning led the pack: 19% of respondents selected it amongst a list of nearly 40 options.
FinTech was not too far behind, with 10% of the pool. Social Impact won over 7% of respondents, and the next 25% was made up of a nearly equal spread of selections between B2B SaaS, Consumer Social, AR/VR, Blockchain/Crypto and Venture Capital.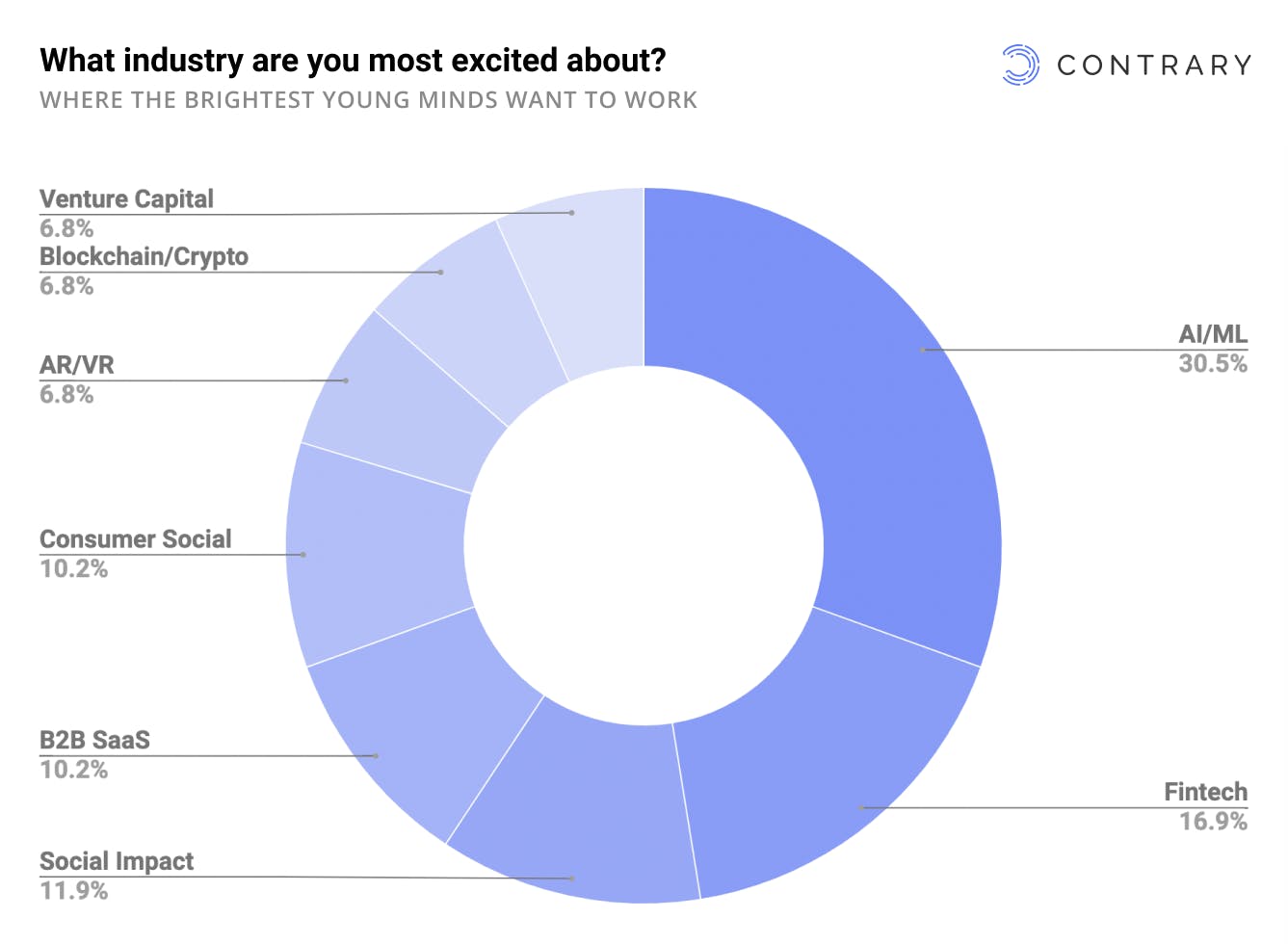 An honorable mention
A number of companies, from early to late stage startups, received honorable mentions from this year's best and brightest, including:
Fast - Building the world's fastest checkout.
Tesla - Accelerating the world's transition to sustainable energy.
Airtable - Enabling everyone to experience the power of creating, not just using, software.
Benchling - Transforming life sciences R&D.
Cameo - Creating the most personalized and authentic fan experiences on earth.
Cedar - Combining the best techniques of fintech, ad tech, consumer and healthcare to help providers understand and engage patients more effectively.
Italic - Building the modern-day "everything store"
MainStreet - Helping startups claim tax credits most accountants never claim.
Neeva - Ad-free private search.
Vise - Automating investment management for financial advisors.
How To Attract The Best Talent
Attracting exceptional talent has always been difficult, and with so many newly funded startups, it's never been more competitive than it is now. We asked respondents to rank the most important factors when joining a startup and here's what we found.
Cmd-Q Zoom
People often think of Gen Z and millennials as digital natives, who prefer working remotely and on Zoom. But when asked about their preferences of working remotely versus in-office, a different story was told:
Well over 50% of respondents prefer to be in an office.
After a tumultuous year of disconnection and isolation, young people seem ready to be back in an office environment, where collaboration and socialization is remarkably more accessible.
Nearly a third (28%) of respondents said they were indifferent, but most notably, only 20% prefer a fully remote environment.
It's All In The Mission
We asked respondents to rank the 3 most important factors in the startups they want to join.
Nearly 70% listed Mission as one of their top 3, with 40% placing it as their #1 factor. Founders and Mentorship were the most commonly occurring #2 and #3 factors. Having a clear mission is critical to attracting exceptional talent, even if that mission is providing a top-notch product.
"Prove to talent that you have challenging, meaningful problems to solve. It doesn't matter what industry you're in or the mission you're targeting, make the work so intriguing and what you get out of it so significant that you can't help but take the opportunity."
The remaining factors that fell into the #4 through #7 slots are Culture, Salary, Equity, and Stage of Company.
The bottom 3? VC Backers, Recognition/Popularity, and Location are somewhat surprising, given that nearly all of the Top 10 are backed by top-tier investors, hold significant brand value, and are also headquartered in major cities.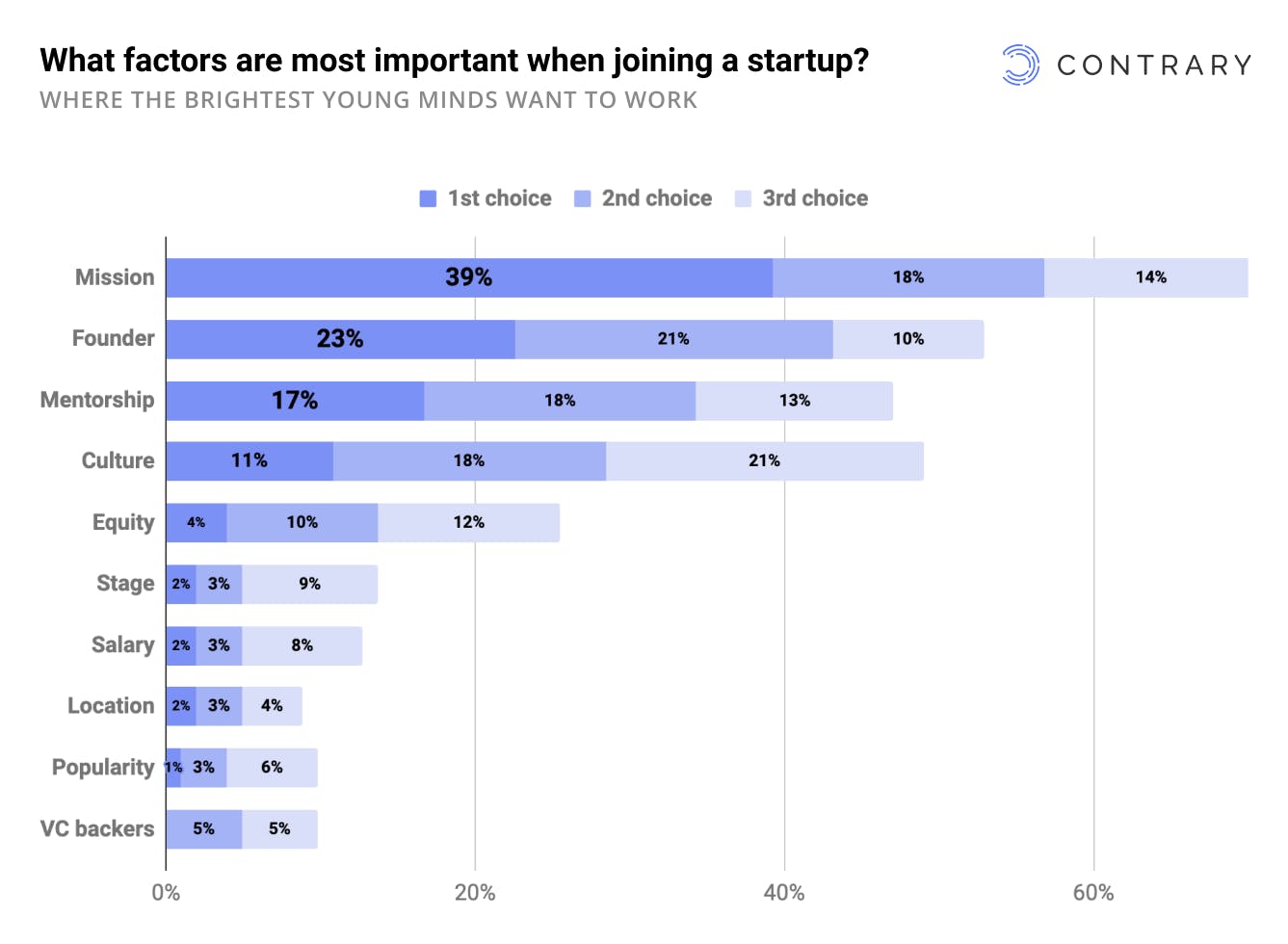 Due Diligence Is Key
There are a number of factors that people consider when evaluating whether it's time to make the jump into the startup world.
But far and away the most commonly occurring issue that respondents cited was, "Trying to evaluate which startups are worth joining."
In fact, 44% of respondents picked this as their primary reason, meaning that even the brightest young minds have trouble evaluating opportunities.
"Working for a startup is like being an Angel investor who only gets to pick one portfolio company to invest in. Be transparent as possible about your company's finances and trajectory - many talented people are making a risk analysis calculation about their finances, career, and personal life when joining a startup."
25% of respondents selected "Discovering good startups and roles", while 18% said "Getting introductions to great companies." Startup discovery is critical, and creating clear pathways for exceptional talent to connect with the most relevant people is perhaps the most important factor in any growing startup's ability to source great talent.
"Outreach, outreach, outreach. Most of my peers that end up going to big tech would seriously consider working at a startup if startups looked for and reached out proactively to young talent. This tends to be rare because in the early days of a startup, most founders want hires with a bit more experience under their belts."
Less than 15% of respondents named "Lack of experience" and "Difficult interview process", so rest assured, young and exceptional talent are confident in their skillset and aren't wary of a difficult interview process.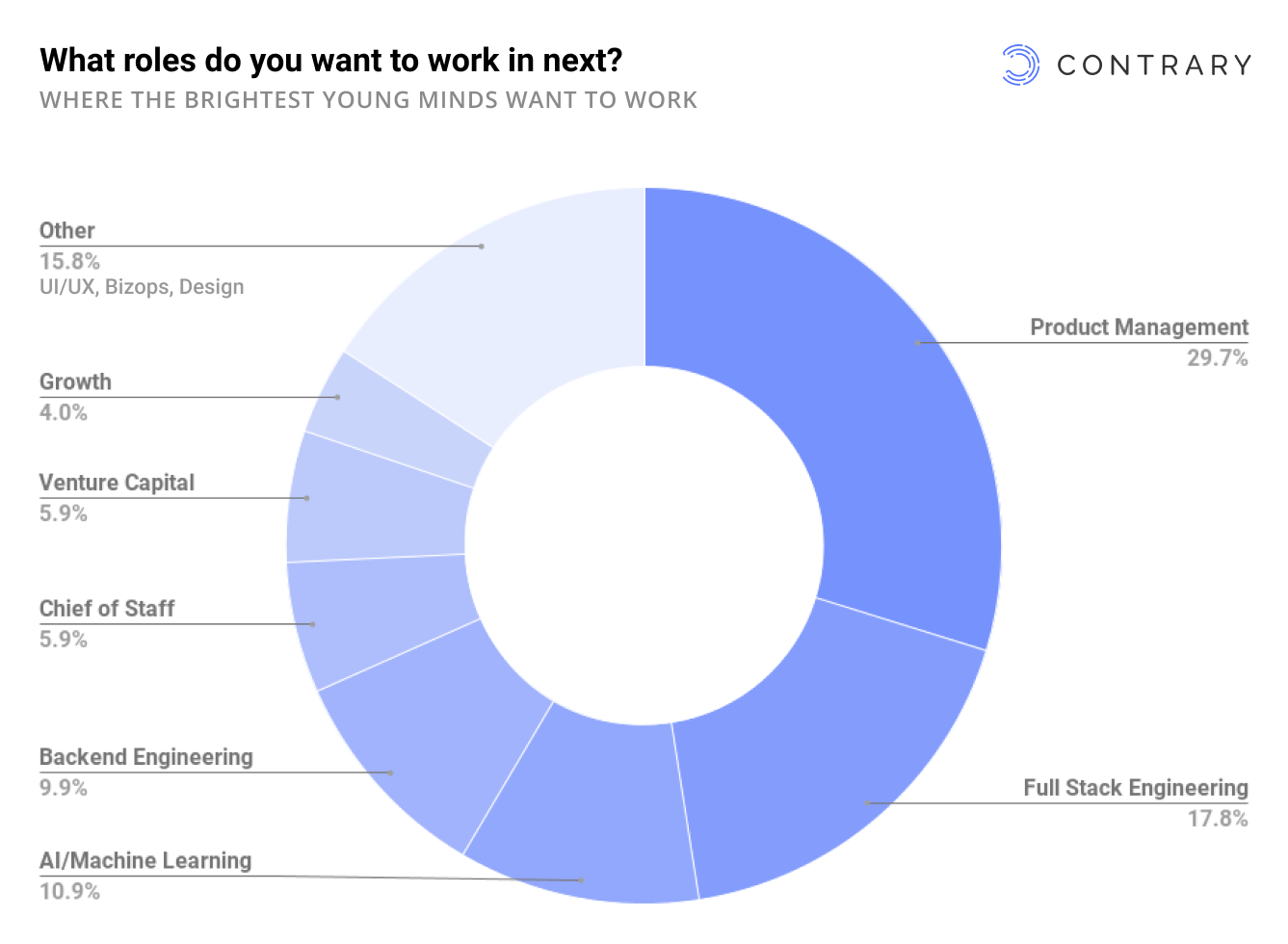 Know Your Worth
Tech salaries have continued to grow, even during the pandemic, and the best and brightest are no exception. Nearly 60% of respondents expect to make over $100,000 in base salary, with 35% expecting between $126,000 and $150,000, not including equity. Nearly 15% of respondents expect base salaries well over $200,000.
Advice For Growing Startups From The Brightest Young Talent
We asked respondents what advice they would give to startups about how to attract the very best talent, and a few clear sentiments rang true.
1. Clearly express your values and give insight into your culture. This could be in the format of an employee showcase video, an earnest company blog, or deliberate employee evangelism. Young people, especially right now, want to see that companies are making a proactive effort to build inclusive, helpful cultures.
"Give insight into your culture! Share the employee experience from their point of view. It's the best way to standout. There are countless places with great engineering talent where I can learn a lot. Very few places have a strong culture where I feel like I can belong."
2. Build and maintain an authentic social media and brand presence. This generation lives on the internet, so attracting them isn't going to happen on legacy platforms. That said, being mindful of your brand is equally as important — don't force yourself onto a medium that doesn't align with who you are.
3. Invest in direct outreach and diverse community-building initiatives. There are tons of smart young people that would join a startup if they knew about them, so in addition to social media presence, companies should recruit on campus, be at career fairs, speak at entrepreneurial club meetings, host non-alcoholic happy hours on or near campus, and reach out to young people on LinkedIn.
4. Be clear about your compensation packages and career growth and development. Additionally, be generous yet disciplined with equity and compensation packages. The best talent knows to look for asymmetric upside.
"Be super transparent around equity compensation and demonstrate that you're employee-friendly. Prioritize things like liquidity events, optionality for employees, and career growth."
5. When evaluating candidates, prioritize enthusiasm over experience. The youngest and brightest people are exceptionally adept at picking up new skills, so previous experience isn't nearly as important when evaluating them. Build an interview process that identifies skills like problem solving and trend-spotting rather than emphasizing previous experience.
A look at the respondents
We polled the broader Contrary community to put together the 2021 edition of Where The Brightest Young Minds Want to Work.
This community consists of a few hundred of tech's brightest early-career engineers, product managers, designers, and others. Many of the respondents are already working at hyper-growth companies, others are starting them, and some are even investing in them too.
As extra color, the individuals we polled are currently shaping their careers primarily at early (5-25 employees) and mid (25-100 employees) stage startups, with just 4% at late (100+ employees) stage startups and only slightly more (6%) at established (500+ employees) companies. A large number of respondents are not yet working full-time, and are watching the industry for clues as to where they should go first.
A deeper look at the data showed that nearly all respondents (93%) — regardless of the size and stage of company they're currently at — want to be at an early or mid-stage startup, if not on the founding team.
Wrapping up
As the hiring landscape continues its rapid shift towards mission-driven, culture-first brands, startups that learn to build ironclad processes and communicate clearly will prevail.
Contrary has, over the years, had a front row seat to exceptional individuals significantly changing the trajectory of a startup they join. That's why we're so excited to continue our work supporting a thriving ecosystem of young builders and leaders.
Note: Contrary invested in Anduril and Ramp after this report was finalized. We're also early investors in Vise.